Study on Finance for Circular Economy in low-and middle-income countries
Description of the Project
The objective of this study is to understand better how German development cooperation can support closing the presumed financing gap for circular economy in low and middle-income countries (LMIC). Therefore, the aim of the assignment is to develop an overview of the financial instruments available and accessible to the public and private sectors to promote a Circular Economy in LMICs.
In that sense, the EU categorization system for circular economy serves as a framework to better understand what activities contribute to the circular economy. The fourteen identified activity categories are clustered into four groups: circular design and production models, circular use models, circular value recovery models, and circular support models. This system is used as a general categorization framework in the study and is illustrated in the figure (right panel) below.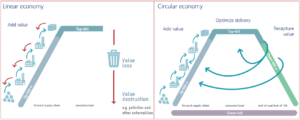 The predominant linear economy (see figure above, left panel) with its "take-make-waste" approach leads already today to massive resource exploitation, loss of biodiversity and ecosystem services, and severe problems for future generations.

The report develops a conceptional framework based on the value hill approach and maps existing barriers (e.g., unpriced externalities, lack of awareness), potential entry points (e.g., development production standards, research, and development), and appropriate financial instruments (e.g., grant funding for technical assistance, finance lease options, purchase and credit loss guarantees). Next to textiles (figure below), addressed sectors are: construction, capital equipment, plastics, packaging, electronics, food, and waste management.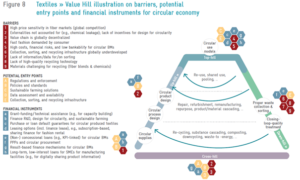 Finally, the project assesses entry points and promising interventions for the German development cooperation in five LMIC and provides impulses and ideas for supporting the transition to a circular economy. The countries (and studies sectors) are Columbia (Production and Consumption; Construction and demolition waste), Dominican Republic (Tourism; Waste Management), Vietnam (Production and Consumption, focus on eco-industrial parks; Textiles), Albania (Waste Management; Construction), and Rwanda (Construction, focus on urbanization; Production, focus on procurement policies).

The publication (download link) has been released at the UN-Conference Stockholm50+ in June 2022, together with UN Environment Programme and #GO4SDGs. See also Frankfurt School press release (link).