Our Approach
The FS-UNEP Centre takes a unique approach towards combining research and expertise to finance the transition towards a greener, climate-resilient future that enables societies to prosper. Our mission is to attract new types of investors, particularly by catalysing the private sector financing of sustainable, low-carbon economic activities. The private sector capital plays a crucial role in the race we face in climate change.
The FS-UNEP Centre's work aims to encourage and support the finance community to scale-up current investments, or to take the first steps into new markets. A key part of this process is to enable the public sector to be able to place policies, regulations and initiatives that overcome existing or perceived investment risks and other barriers perceived by the private sector. The aim is to bring demand and supply of sustainable financing together by promoting smart finance structures and mechanisms.
Our Vision
Our vision is to drive the global transition for a clean and sustainable world – a world driven by a low-carbon economic development and led by environmentally conscious, self-empowered and enabled communities and businesses.
The vision is to accelerate the adaptation needed to make this a reality. this can only be achieved by working with, engaging and strategically advising financial actors to develop innovative, smart and practical solutions.
Our Team & Expertise
The team at Frankfurt School – UNEP Collaborating Centre for Climate & Sustainable Energy Finance combines an in-depth knowledge of finance markets, particularly in developing and emerging countries, with extensive skills for the design of appropriate financial mechanisms and contractual arrangements for financiers under local conditions. It acts as a bridge-builder between the public and private sector, developing and developed countries, high-level climate policy negotiators and on-the-ground project developers. It generates a mutual benefit by bringing the demand for financing, with those able to supply it, together.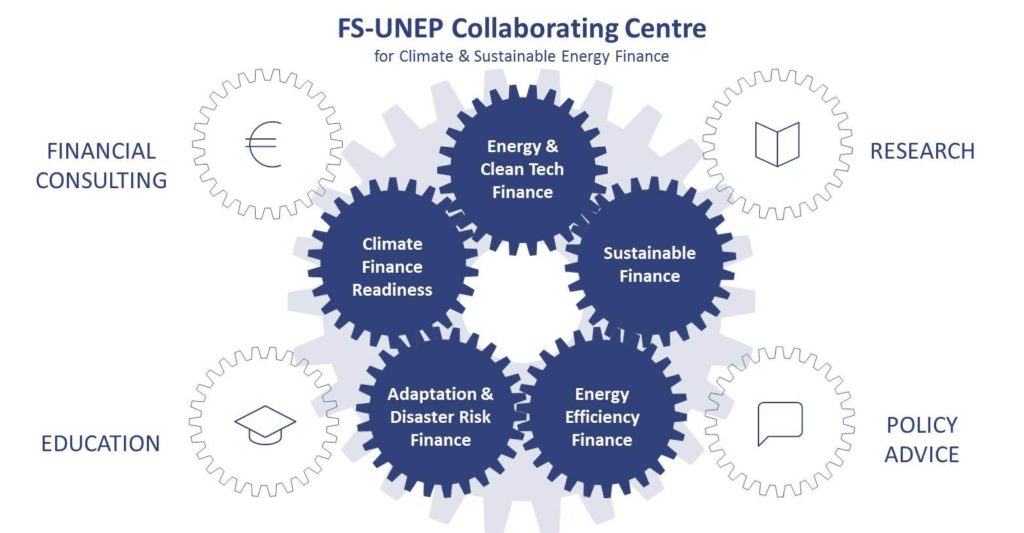 Area of Expertise
Sustainable Finance
Renewable Energy and Cleantech Finance
Crowdinvesting
Decentralized energy
Project Finance and Risk Transfer
Area of Expertise
Sustainable finance
Organisational development
Environment & social management systems
Climate & environment-related financial disclosure
Project cycle management
Area of Expertise
Renewable energy
Green hydrogen
Electric mobility
Sustainable finance advisory
Financial modelling

 
Area of Expertise

Climate Finance
International Climate Policy
Green Climate Fund
Education
Global Trends in Renewable Energy Report
Research Areas
Environmental and Energy Economics
Climate Policy
Climate Finance
Applied Econometrics
Area of Expertise
International Development Cooperation
Private Sector Development, Sustainable Energies, Public Finance, Aid Effectiveness
Global climate finance, banking as well as public promotional instruments
Regional focus on Africa (anglophone, francophone)
Management of complex programmes