Financial Big Data Cluster (FBDC) – Use Case: Sustainable Finance (SUSFI)
Description of Project
The aim of the project is the establishment of a secure and legally compliant financial data platform – the Financial Big Data Cluster (FBDC). The new cloud-based platform will enable the exchange of data across organizations while preserving individual data sovereignty. The platform`s users and suppliers will include, among other, public stakeholders, research institutions, European financial institutions, and FinTech companies. It is a key driver for the advancement of data-driven artificial intelligence (AI) and machine learning (ML) business ideas and solutions within the financial ecosystem in Europe.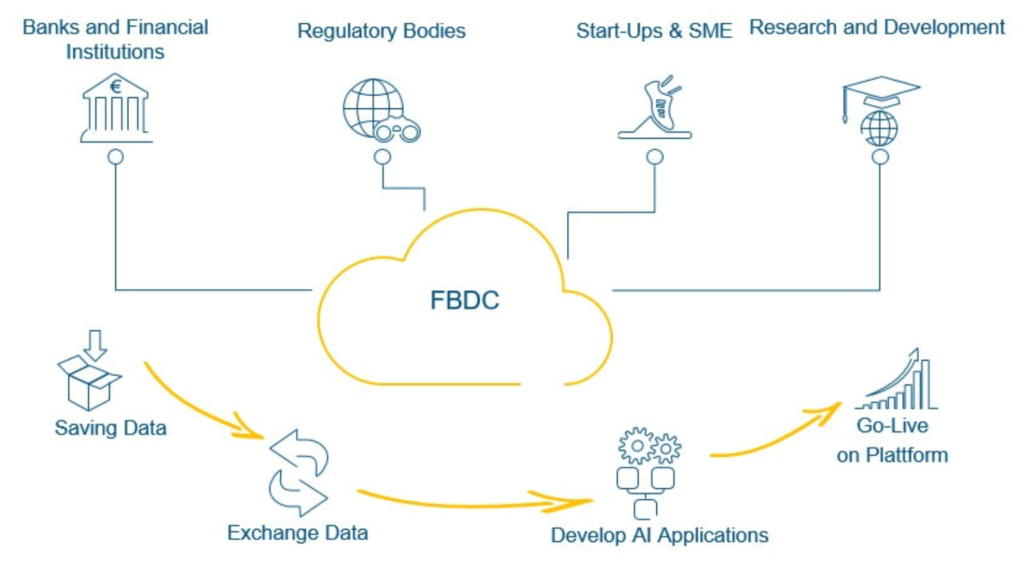 Source graphic: BMWi
Link between FBDC and R&D project "SafeFBDC"
A key driver for the establishment for the FBDC is the research and development project "SafeFBDC". SafeFBDC will pave the way for the development of a viable financial data infrastructure and platform. The project´s infrastructure will be set up under the highest standards of data protection, data security and data sovereignty. Within the SafeFBDC project, new AI and ML-based methods based on five financial use cases, i.a. Sustainable Finance, will be researched, developed and prototypically validated. The Safe FBDC use cases and the respective results shall be implemented and perpetuated in the FBDC, as far as possible.
The funding for the three-year SafeFBDC project, beginning in January 2021, stems from the German Federal Ministry for Economic Affairs and Energy as the project consortium, including the Frankfurt School, won the ministry´s Innovation Competition "Artificial intelligence as a driver for economically relevant ecosystems." The consortium partners, besides Frankfurt School, include Deloitte, Deutsche Börse Group, Fraunhofer Institute for Material Flow and Logistics, HAWK:AI, Helaba Landesbank Hessen-Thüringen, main incubator, Refinitiv, SAP SE, spotixx and TU Darmstadt, plus more than 30 strategic partners.
FS-UNEP Centre leads use case Sustainable Finance
The Frankfurt School contributes to two of the five uses, Sustainable Finance and AI-based Monetary Policy. The FS-UNEP Centre leads the Sustainable Finance uses case, supported by the Helaba bank and the Main Incubator and further strategic partners. The aim of the use case is to improve the currently often insufficient availability and quality of ESG data and to establish a local ESG data platform. The central approach is to test and further develop innovative AI and ML methods both to close identified ESG data gaps and to develop new methods for ESG data generation. Financial market participants, especially banks, should thus be able to better integrate sustainability risks into their operational risk modeling and relevant decision-making processes.
Learn more about the FBDC project on the website of the German Federal Ministry for Economic Affairs and Energy and TechQuartier, the project coordinator.