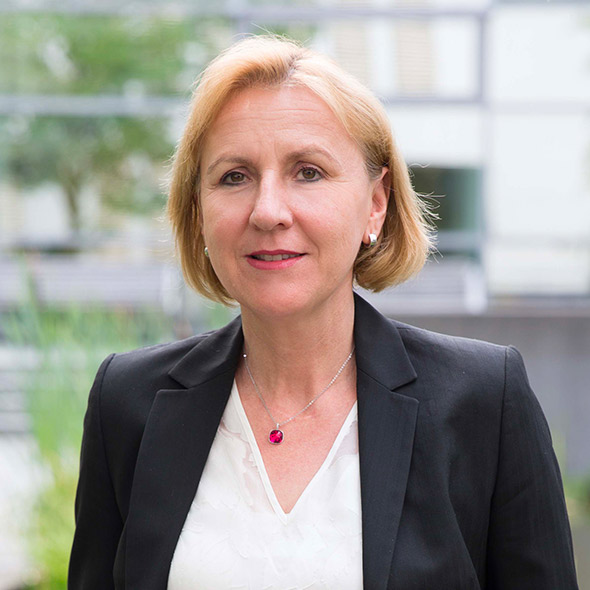 Fatma Dirkes
Head of International Advisory Services
Fatma Dirkes
Head of International Advisory Services
Ms. Fatma Dirkes is the Head of the International Advisory Services, of Frankfurt School of Finance & Management with overall responsibility for all of Frankfurt School's international consultancy projects and department staff worldwide. As Member of the Management Committee of Frankfurt School, Mrs Dirkes is involved in the School's executive decision-making process and is charged with developing the School, defining strategic objectives, risk management and ensuring the institution is moving towards fulfilling its goals and mission.
Ms. Dirkes has hands on proven experience in the design of institutional building programs and training concepts, development and implementation of new lending products and has developed TA concepts, led inception missions and carried out due diligences and diagnostic studies for a broad range of institutions worldwide. Ms. Dirkes responsibilities include the design and implementation of a variety of projects focusing on Climate and Energy Efficiency Finance funded by international donor organisations e.g. ADB, EU, EIB, EBRD, KfW, IFC and Worldbank. Mrs. Dirkes is the Project Director of the on-going EBRD Initiative "Tajikistan: Green Economy Financing Facility" (https://ebrdgeff.com/tajikistan/) and is member of the Technical Committee of the KFW financed Grant Facility "InsuResilienceSolution Fund" (https://www.insuresilience-solutions-fund.org/).
Ms. Dirkes can rely upon outstanding in-depth knowledge of the banking education sector globally. She is the current president of the "European Banking & Financial Services Training Association (EBTN)" (https://www.ebtn-association.eu/).
Ms. Dirkes holds a university degree in Business Administration. Prior to joining Frankfurt School in 2003, Ms. Dirkes worked as auditor and consultant for PriceWaterhouse Coopers, Banco de Brasil and KPMG.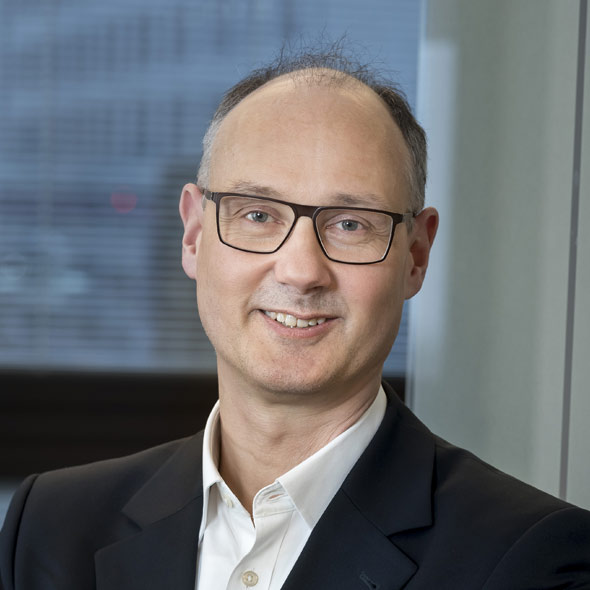 Karsten Löffler
Head of FS-UNEP Collaborating Centre
Karsten Löffler
Head of FS-UNEP Collaborating Centre
Karsten Löffler is Head of the Frankfurt School – UNEP Collaborating Centre for Climate & Sustainable Energy Finance at Frankfurt School of Finance & Management. In this role, Mr. Löffler has overall responsibility for all international Frankfurt School consultancy projects in the area of climate and sustainable energy finance. Mr. Löffler combines the private sector finance perspective with a deep understanding of the global political agenda and the role of the public sector.
Mr. Löffler also acts as Managing Director of the Green and Sustainable Finance Cluster Germany (GSFCG). He used to represent the GSFCG in the EU Commission's Technical Expert Group on Sustainable Finance, where he actively shaped the EU Taxonomy applying his extensive experience in renewable energy finance. In October 2020 he became a member of the Commission's newly established Platfrom on Sustainable Finance. Furthermore Mr. Löffler has the honour to chair the Sustainable Finance Committee of the Federal Government. One of the tasks is to develop recommendations for a Sustainable Finance strategy for Germany.
Before joining the Centre Mr. Löffler worked for Allianz Group for 28 years, including Dresdner Bank, Allianz Global Investors and Allianz Climate Solutions, where he was tasked to advance Allianz Group in light of climate change across its business lines. His focus was on integrating climate change considerations into the Group's DNA, in particular working with the investment and asset management arms to include climate risks into investment decision making. In insurance he worked on increasing Allianz' role in providing natural catastrophe cover in developing countries.
Mr. Löffler is a certified international investment analyst and member of the German Science Platform Sustainability 2030. Representing Allianz he was inter alia chairing UNEP FI's climate change advisory group, was on the management board of ClimateWise, member of the Geneva Association's extreme events and climate risk working group, and advisor to the Global Innovation Lab for Climate Finance.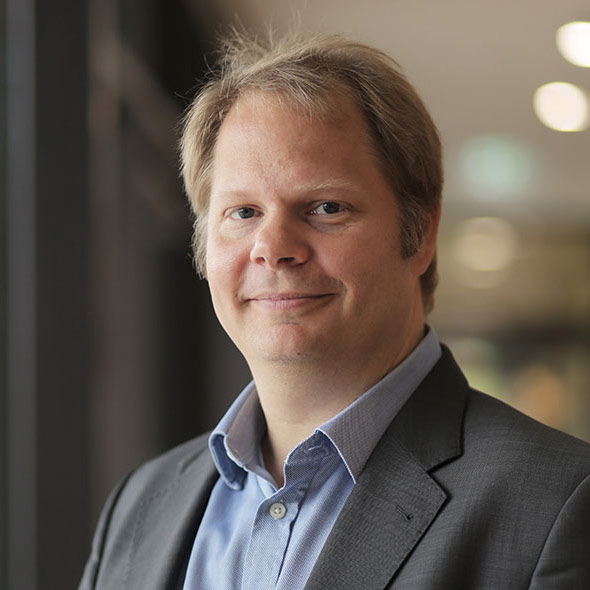 Prof. Dr. Ulf Moslener
Prof. Dr. Ulf Moslener
Prof. Dr. Ulf Moslener researches, teaches and provides advice on sustainable energy finance as part of the faculty of Frankfurt School and as Head of Research of the FS-UNEP Collaborating Centre for Climate and Sustainable Energy Finance. His research focuses on the economics of climate change, financing sustainable energy systems and climate finance. In his interdisciplinary work he covers international climate policy, carbon regulation, carbon emissions trading, and promotion of renewable energy. Prof. Moslener can look back at a long history of practical experience from working with KfW Development Bank, dealing with financing renewable energy and energy efficiency in developing countries, notably Asia.
Prof. Moslener provides his knowledge at Ministries, the European Commission and financial institutions. He represented Germany in the UN Standing Committee on Climate Finance and currently serves as Vice Chair of the Advisory Group to the Clean Investment Funds (CIFs) at World Bank and as Vice Chair of the Green and Sustainable Finance Cluster Germany (GSFCG).
Ingmar Jürgens
Ingmar Juergens is Head of the Berlin Office of the Frankfurt School – UNEP Collaborating Centre for Climate & Sustainable Energy Finance. In this role, Ingmar coordinates the policy interface of our work, both at national and at EU level, ensuring adequacy, salience and timeliness of our analytical and advisory projects and services. He combines a long-standing experience in policy making and advice in the UN, EU and national context with a strong analytical profile
Ingmar took leave from the European Commission in March 2017 to focus on his sustainable finance and climate economics research, and to work as independent policy advisor. Since his first "climate job" in 1998 (at Braunschweig Technical University), Ingmar has gathered significant experience in policy design, analysis and advice, particularly on climate and energy financing and economics. Among others, Ingmar has spent 15 years working for the European Commission, the United Nations (FAO) and the OECD. In June 2013 Ingmar was appointed Senior Economic Advisor of the European Commission in Germany. From 2012 to 2013, Ingmar spent a sabbatical year as Deputy Director of the Climate Policy Initiative (CPI) to focus on climate and energy financing and to advise the interim secretariat of the Green Climate Fund in Bonn. From 2010 to 2012, he served as the coordinator of the EU strategy for adaptation to climate change in the EU Directorate General CLIMA. From 2007 to 2010 Ingmar was responsible for the economic analysis of energy and climate policy in the EU Directorate-General for Industry and Enterprise and coordinated the work on carbon leakage. At the FAO of the United Nations (2003 and 2007), Ingmar was responsible for developing the organisation's work programmes for carbon finance, climate adaptation and bioenergy.
Area of Expertise
Environmental Economics and Finance
Climate and Sustainable Finance policy and regulation
ESG Disclosure
Area of Expertise
Renewable Energy financing
Crowdinvesting
Financial Modelling
Area of Expertise

Climate Finance
International Climate Policy
Green Climate Fund
Education
Global Trends in Renewable Energy Report
Area of Expertise

Sustainable Finance
Renewable Energy and Infrastructure Financing
Risk and Policy Analysis
Research Areas
Environmental and Energy Economics
Climate Policy
Climate Finance
Applied Econometrics
Area of Expertise
Private sector development and clean energy
Project management for renewable energy projects, energising rural economies by building value chains and supporting productive use of electricity in Africa.
Organisational Development and capacity building, including advisory, incubation, and impact measurement
Area of Expertise
Sustainable Development and Climate Finance
Organisational Development and capacity building (addressing strategies, procedures, products and services) to align with market needs and changes (global commitments, regulatory requirements, fiduciary standards and social & environmental safeguards)
Area of Expertise
Renewable Energy and Cleantech Finance
Crowdinvesting
Decentralized energy
Project Finance and Risk Transfer
Area of Expertise
Adaptation Finance
Green Climate Fund
International climate policy
Nationally Determined Contributions
Climate justice
Area of Expertise
Renewable Energy and Energy Efficiency Finance
Smart City Finance